25+

Years of Quality Service in

Kitchenware Products
Since from the commencement of the Company in the year of 1984, we are directed mainly towards providing and producing High Quality Stainless Steel Kitchenware products that our Customers & Users will love to use and work with.
Since then, Company has grown rapidly and now it is one of India's top Stainless Steel Strainer and Grater Manufacturer. With time company has gained experience in developing wider range of Kitchenware Products.With the top quality and variety of products, it has also created a name in the international market.

The truth is, we load our Product with Innovation. We often provide our Customers and Users with a new technology even before they realize the need of it. All this is because of the efforts of our highly skilled team and staff alongside with Advance Machinery and equipment's.
The passion for producing quality products helps us creating Benchmarks in the performance of our products, thus provides/helps find new ways to experience a new and a modern day to day "Kitchen Life".
TIGER range of products is made up of high grade Stainless Steel which defines the product strength.We make sure that the Raw Material being used is of Best quality and Grade. Also our Packaging Department keeps innovating ways of packing product so that they look more beautiful keeping in mind "Eco Friendly environment".
We strive to provide our customers with High quality and Innovative Product keeping the Price very economical.
Our Products may be Strainers, Baskets, Graters, Sieves or else, are widely used in day to day life for various Kitchen related purposes
Along with producing greater products comes the responsibility of greater and timely supply of products as well as Quality relationship Management with our Suppliers and Customers. And no doubtfully the company has maintained its standards relating to it up to the mark.
We have a Class Leading Warehouse which take cares the timely supply of material to the Customers, making fast and reliable supplies.
We are pleased and amazed to offer our wide range of products to all our customers WORLDWIDE.
We have different kitchen accessories and products
Stylish Design
Customer Satisfaction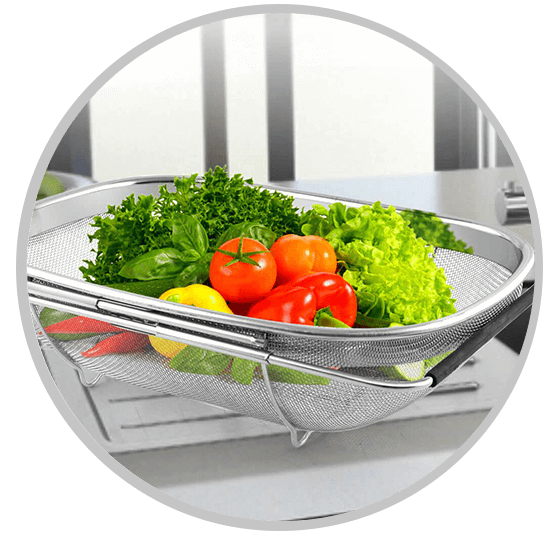 Assured Quality
Quality Product